Center for Innovative Medical Models (CiMM)
The Center for Innovative Medical Models (CiMM) at LMU Munich is a unique research environment for the generation, characterisation and implementation of large animal models in biological and biomedical research.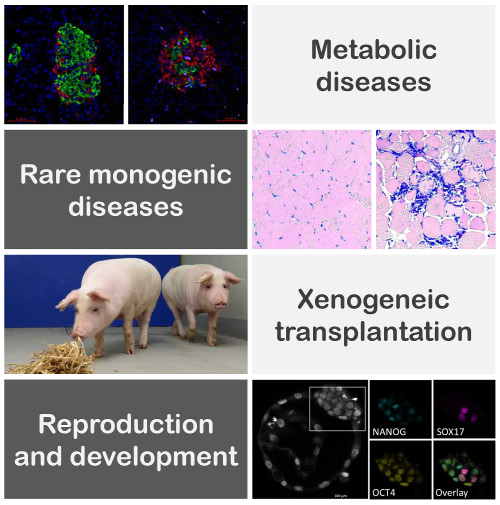 CiMM generated genetically diabetic or prediabetic pig models, performed treatment studies, and analyzed diabetic complications using multi-omics designs. Another focus are pig models for monogenic diseases, including cystic fibrosis, Laron syndrome and Duchenne muscular dystrophy. Since the number of donated human organs and tissues for transplantation falls far short of the need, CiMM develops genetically multi-modified pigs as an alternative organ source.
Finally, biology of reproduction in livestock species is an interesting research topic since many aspects resemble human reproductive biology more closely than rodent models do.
CiMM is operated by staff from the Chair of Molecular Animal Breeding and Biotechnology, Gene Center and Department of Veterinary Sciences, LMU Munich. In addition, CiMM welcomes guest scientists from academia and industry to perform their research projects with large animal models in collaboration with experts from the CiMM facility.
CiMM is a core infrastructure for a number of research networks, such as the German Center for Diabetes Research (DZD), the DFG Transregional Collaborative Research Center 127 "Biology of Xenogeneic Cell, Tissue and Organ Transplantation – from Bench to Bedside", and the EU H2020 Project iNanoBIT.
News